Bradley's Corner Cafe is a throwback, American style, corner restaurant located in Topeka's up and coming NOTO Arts District. They serve a banana creme pie that is so delicious it put me in a trance. Its flavor painted a portrait of Chiquita banana dancing the merengue with a baker in my head. Even the meringue had a hint of sweetness that I was very pleased with.
The dining room was charming scene, however my table did rock from side-to-side as I put the finishing touches on a work email. There was only one available  table out of the fifteen or so in the building. If this restaurant had not been as busy, I would have asked to switch to a more stable table top.
While on my visit, I saw two familiar faces, two of the kindest ladies I had met from past visits to the establishment. I quickly felt at home as they both sat down to chat with me about the delicious pie and my Jay-hawk T-shirt. Due to it being rivalry week in Kansas, it led to a great conversation about college basketball with the ladies. We could all agree that no matter who won, KU or the Shockers, it would feel bitter sweet.
That conversation was just the start to a great visit into the Bradley's Corner Cafe. Later into my visit, I was fortunate to make a new friend! While wiping my face of the pie I had just inhaled, I was tapped on the shoulder by a little boy. This little boy gave me a very insightful spiel, inviting me to his church. The boy even handed me a card for the play that he appears in regularly.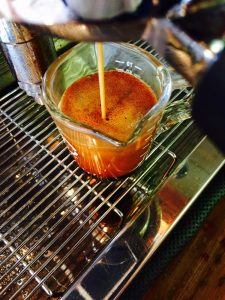 All-in-all, my experience was great in this down to earth, "whole" in the wall restaurant. I have to return soon to continue my exploration in trying each of the 20 delicious flavors of pie they offer at-least once. In a future visit, I plan on trying items from their breakfast menu. I would have this last visit, but I walked in at 12:15, therefore they offered me both breakfast and lunch.
Check it out and spend some money at a local business. Maybe soon they will upgrade their wobbly table to something a little more sturdy. Enjoy this NOTO Arts District experience, and top it off with some espresso from a few doors down at Bunker Coffee!