Here at Ling's Express one thing is for sure the General Tsao's Chicken is made nice and crispy. It even tastes different than the sesame chicken. In my personal opinion that is a must! They're also generous when it comes to serving sizes. I asked for extra broccoli, and they gave me plenty. Some may even argue more than enough.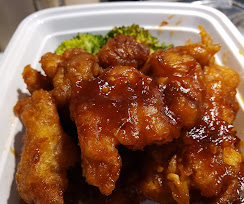 They opened a few years ago, in what was at the time Topeka's brand new strip mall. So, you know it is kept clean and orderly. However, the kitchen is bigger than the dining room. The dining seats only about 12 people or so total.
If you're from out of town there are other choices directly nearby. The strip mall houses a coffee shop with hot food, a Mexican restaurant, and this Asian cuisine. Only 200 feet away is a full service bar!
I've officially become a fan, and look forward to going in for a bite anytime. I stopped by on Sunday evening at 8:00. To my surprise they have a drive thru, but I am not sure whether they do deliveries yet.